---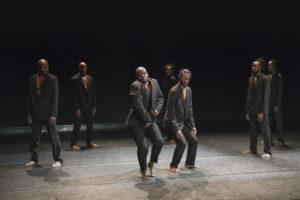 New choregraphy piece by Josef Nadj for 8 performers.
OMMA should have premiered from the 25 to 27th june 2020 at Les Nuits de Fourvière festival in Lyon. Due to the Covid-19 pandemic, the premiere in Lyon and all the performances scheduled in 2020 have been cancelled.
The premiere of OMMA eventually happened on the 9 and 10th february 2021 at Les Théâtres de la ville de Luxembourg. 
To read more about OMMA, see here.
Upcoming dates:
09>10.06.2021 – Les Nuits de Fourvière – in complicity w/ the Biennale de la danse de Lyon (FR)
9>11.07.2021 – Festival de Almada – Almada (PT)
17.07.2021 – la Scène nationale d'Orléans – Orléans (FR)
29>30.07.2021 – La Biennale di Venezia – Venice (IT)
Season 2021/2022 is under construction and will be announced shortly.

*May be subject to changes due to the Covid-19 restrictions.